Sertificates and licenses
   I. Kontrol 94 Ltd. is attested and holds Permit No CPR 12- NB1879/09.10.2013 of the Ministry of Regional Development and Public Works for evaluation of the conformity of construction products according to Regulation (EU) 305/2011.
   II. Permit № PL211, issued by DIN CERTKO – Germany.
The laboratory for testing of solid fuel appliances is approved DIN CERTCO test center with registration number № PL 211 according to the following standard specifications:
                DIN EN 12815 – Residential cookers fired by solid fuel;
                DIN EN 13240 – Room heaters fired by solid fuels;
                DIN EN 13229 – Inset appliances including open fires fired by solid fuels.
                After passing successful testing in the laboratory of Kontrol 94 Ltd. According to the above standard specifications and upon application to DIN CERTCO the applicant receives certificate according to DIN CERTCO for the following mark:
–              DIN – Gepruft
–              DIN plus
Kontrol 94 Ltd. Prepares detailed technical report and attaches to it technical record of the product and sends it to DIN CERTCO, Germany. DIN CERTCO issues the requested certificate on the grounds of the result analyses of the conducted testing and the technical documentation of each product.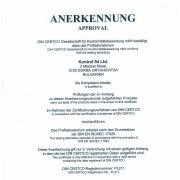 III. Accreditation certificate.
The testing laboratory at "Kontrol 94" Ltd. is an accredited testing laboratory in the regulated and non-regulated areas of ЕA BAS according to BDS EN ISO/IEC 17025:2018 and hаs a certificate No122 ЛИ dated 16.09.2019 valid until 30.09.2020.